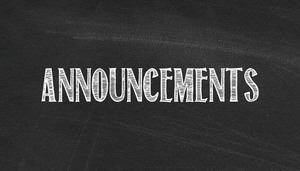 DAILY ANNOUNCEMENTS
Stefanie Smith
Tuesday, September 10, 2019
DAILY ANNOUNCEMENTS
Wednesday
March 4, 2020
Today's Lunch
Pepperoni Calzone
Peas
Banana
Thursday's Breakfast
Cereal Bar
Mandarin Oranges
Orange Juice
Thursday's Lunch
Chicken Tenders with Ranch or BBQ Sauce
Baked Beans
Celery
Apple Slices
Sports:
Girls Volleyball 7th grade lost a tough match in 3 sets to Unity last night. Congratulations on a great season that brought home some hardware!
Practice tonight 2:30-4:30.
7th graders may come and participate.
Scholastic Bowl The Scholastic Bowl team beat Georgetown last night and lost to Heritage by 10 points. The next meet is tomorrow, March 5th at Rossville, the bus leaves at 2:45.
Track practice change… practice will be March 9th from 3:00-4:00 @ Giacoma.
There will be an early dismissal school improvement day this Friday March 6th @11:20am. There will be no lunch served for the Jr High and there will be NO PROJECT SUCCESS.
The WHS & WJHS bands will be performing at the Winter Concert on Sunday, March 8th at 2:00 p.m. in the High School New Gym. Admission is free and everyone is encouraged to attend. Performers are reminded that report time is 1:30.
Today is a Band Day
Yearbook Do you want a free yearbook?! We are giving away at least 4 yearbooks before Spring break. If we sell at least 10 a week for the next four weeks, we will draw for a free one! You can order online or bring in cash or check to the office or Ms. Gill. A name will be drawn each Monday. This begins this week!