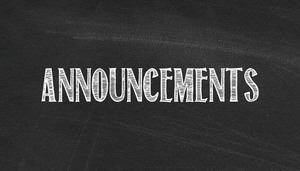 DAILY ANNOUNCEMENTS
Stefanie Smith
Tuesday, September 10, 2019
DAILY ANNOUNCEMENTS
Wednesday
December 11, 2019
Today's Lunch
Hot Dog
Baked Beans
French Fries
Diced Pineapple
Chocolate Ice Cream Cup
Thursday's Breakfast
Blueberry Muffin
Grapes
Strawberry Slushie
Thursday's Lunch
Macaroni and Cheese
Steamed Broccoli
Fresh Apple
Mini Biscuit
Sugar Cookie
Sports:
Volleyball tryouts today information is on handout check office if you need a copy.
Newspaper: There will be a newspaper meeting after school today in Mr. Witsman's room until 3pm
The Spelling Bee Team will be holding an informational meeting and tryouts during Homeroom on Wednesday, December 18th in Ms. Gill's room. Those interested in trying out may come to the office for a list of practice words. Tryouts will consist of spelling 20 randomly selected words from the list. See Mr. Ross with any additional questions about the team.
There is a drop off container in the entrance by the Christmas tree for Santa's Anonymous. We are starting to get some items in however there is still time if you would like to donate.
Boxes for canned goods is outside the office on the table. Place items in 7th or 8th grade boxes. As of today 8th grade leads 48 canned goods to 7th grade 11.
Today Is a Band Day
WILDCAT WISDOM: Reminder: only students eating school breakfast should be in the cafeteria in the morning. When selecting a seat at breakfast or in the gym in the morning you may sit anywhere else you want but that is where you are to stay. The same goes for lunch.