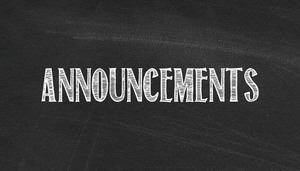 DAILY ANNOUNCEMENTS
Stefanie Smith
Tuesday, September 10, 2019
DAILY ANNOUNCEMENTS
Friday
February 21, 2020
Today's Lunch
Turkey and Cheese Sandwich
Shoestring French Fries
Green Beans
Cheese Stick
Clementine
Monday's Breakfast
Whole Grain French Toast Stick
Syrup
Turkey Sausage Patty
Grape Juice
Monday's Lunch
Popcorn Chicken
Black Beans
Mixed Vegetable
Raisins
Sports:
Girls Volleyball Congratulations to the 7th grade for defeating Bismarck in 2 sets last night to win the County Championship! 7th Grade will practice after school today from 230-430pm
8th Grade plays in the County Championship tonight at home against Georgetown. Game time is 7:00pm 8th grade girls be here by 6pm.
Cost to get into County Tournament games are as follows: $3 high school/adults, $2 k-8/senior citizens. ONLY IESA and VC Retired passes allowed
7th and 8th-grade boys' basketball party will be Monday, February 24th from 3:30-4:30 at Giacoma. All players must bring their uniforms to turn in.
Student Council:
Team S works the game tonight please be here by 5:15pm to help set up.
Team T works the game Monday, February 24th and Team V will work the Game Tuesday, February 25th.
7th Grade makeup game is Wednesday, February 26th Team I works the game. There is only one game so make sure your ride home knows.
Interstate Studio will be here Tuesday, February 25th @ 9:30 to take pictures of all nonathletic extracurricular groups for the yearbook.
Volleyball pictures will be @ 4:30pm you have already received your order form, please bring with you if you are purchasing photos.