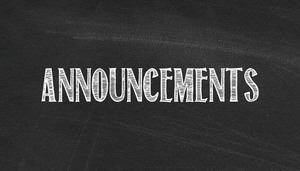 DAILY ANNOUNCEMENTS
Stefanie Smith
Tuesday, September 10, 2019
DAILY ANNOUNCEMENTS
Thursday
January 16, 2020
Today's Lunch
WG Spaghetti with Sauce
Cheesy Breadstick
Celery Sticks with Ranch
Apple Slices
Friday's Lunch
French Bread Pepperoni Pizza
Steamed Broccoli
Orange Slices
Rice Krispie Treat
Sports:
Boys Basketball practice tonight from 5:30-7pm
Girls Volleyball 7th grade practice 2:30-4pm 8th grade 4-5:30pm
If anyone is interested in the WHS Cheer Clinic, please see Ms. Gill for information either before school, during homeroom, or after school.
Scholastic Bowl Tryouts Friday, January 17th 2:30-3:30pm for anyone that wasn't able to attend the first session.
Spelling Bee today during homeroom in Ms Gill's room. Come after the pledge and announcements.
Wildcat fancloth order link can be found on the school's website order close date is January 16th
https://bodynsolesports.com/team-sales/giacoma-westville
Ms Huchel- today after The Pledge & announcments 8th grade head to the cafeteria Officer Beth Damilano will be here to speak to all 8th Graders as part of Ms. Huchel's Current Events lessons.
Band and Chorus students are reminded that Solo & Ensemble forms are due by Friday January 17th.

Today Is a Chorus Day
Yearbook Any yearbook members that would like to take pictures at the Boys Basketball game on Tuesday, January 21st. Please let Mrs. Bialeschki know.
order forms are being handed out today during homeroom. Extras will be available in the office or from Mrs. Bialeschki and Ms. Gill. Orders are due April 1st. You can bring cash or check to Mrs. Bialeschki, Ms. Gill, or the office with your form. Online ordering is also available at www.inter-state.com/yearbook with code 43390F.