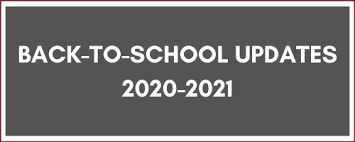 Westville Update on Back to School Planning
Dr. Seth Miller
Friday, July 10, 2020
July 10, 2020
Dear Westville School Community,
Here are some important updates about how things are developing as our district continues to plan for the upcoming school year. On June 23, 2020, the Illinois State Board of Education (ISBE) and the Illinois Department of Public Health (IDPH) published guidance for the transition back to in-person instruction for schools during the fall 2020 semester. While this is an encouraging first step towards school, there are significant challenges the district is addressing. The current guidance requires (among other things), that Illinois schools implement the following safety measures:
Require the use of appropriate personal protective equipment (PPE), including face coverings;
Prohibit more than 50 individuals from gathering in one space;
Require social distancing be observed, as much as possible;
Conduct symptom screenings and temperature checks before individuals enter school buildings; and
Increase school-wide cleaning and disinfection.
Since May, the district administration, staff, and school board have been considering different options for a potential return to school in August. The options that have been explored and studied include the following:
1) Opening school for all students in attendance, all the time, realizing there will be limitations on the social distancing the school can provide
2) Opening school with a blended approach to learning with some in-person instruction on certain days and remote learning on some days
3)Preparing for the event that school cannot open for in-person learning and is forced to implement remote learning for all students
Throughout this process, our highest priority has been to ensure the safety and well-being of all our students and staff. We have conducted surveys, followed guidance from the ISBE, and continue to think about the best options and scenarios for returning in the fall.
We are still evaluating whether to permit families to choose an entirely remote learning option if they do not want their students to attend in person. Much will depend on the guidance provided by ISBE, IDPH, and possibly even the General Assembly.
There are multiple teams working every week to finalize a plan that can successfully meet our student and community needs. These teams are working on the following areas and here is a short synopsis of the obstacles and considerations related to our plan.
Registration
We are looking at conducting registration earlier this year. We would like to conduct registration in July to better gauge how COVID-19 may impact enrollment and to determine how many students may be seeking remote learning if that option is made available.
Devices for Remote Learning and Training
We are looking at purchasing devices for students to ensure each student has a learning device and access to internet in the event we have to utilize remote learning at some point in the school year. Additionally, we are looking at what training we need to provide to students, parents, and staff on how to better conduct remote learning on platforms like Google Classroom, learning applications like See Saw, and remote learning software such as Edgenuity.
Daily Procedures / Positive COVID Response
We are working to see what daily procedures will need to be in place so that we are in compliance with guidelines and able to provide a safe environment for students, staff, and visitors. Our goal at this point is to find a way to serve all students all days of the week with the logistical guidelines put forth by our governing agencies. This involves issues like guidance to wear face coverings, daily health screenings for students, and limitations on student capacity in certain areas. Additionally, we are working on appropriate responses and protocols in the event of a positive COVID-19 test by a student or employee.
Remote Learning
In addition to working on plans for in-person learning we are working on how to prepare for remote learning in the event it is needed. The school board and steering committee are continuing to evaluate the idea of providing remote learning for those students who medically require this delivery method or who may prefer it to reduce risks. We are trying to be strategic so that whichever delivery method a student chooses (remote learning or in-person) the content and expectations would be similar.
Transportation
We are working on issues related to transportation. Currently there are limitations on the number of students permitted on a bus that could create issues. Additionally, there is a need to make sure students are screened prior to riding on the bus in light of social distancing limitations on the bus.
Food Service
Regardless of the instructional delivery model, the district is working to make sure that food service for students can continue. Current limitations of 50 students to a space will present challenges to large gathering spaces like cafeterias.
Extra-Curricular
The district is working to implementing extra-curricular opportunities as guidelines allow. At this time there has been no decision by the IHSA, IESA, or other athletic organizations to postpone athletic and/or musical events; however, there are strict protocols in place for participation and types of activities permitted at this time. There have been increased opportunities for sports activities which will be released by the district soon.
Even as some area districts are staring to roll out their tentative plans for resuming school this fall, the reality is that every district is still operating with significant unknowns at this point. Additionally, it is very likely that new guidance from the CDC will emerge in the near future. With each passing day the urgency to know what "the plan" is grows stronger. It is very difficult to balance the need and desire for a plan with the reality that the situation is still very fluid. As a district we are acutely aware of how frustrating this is for our students and parents.
As new guidelines emerge and our steering committee continues to work out a plan we will share that information as soon as we have it. In the meantime, I would encourage our school community to stay abreast of current events (district emails, CDS guidance, information on COVID-19 activity from the Vermilion County Health Department, etc.). I am very encouraged by the positivity of the faculty and staff and the commitment of the school board to find safe and common sense solutions to meet the needs of our students. Challenges lie ahead, but if we remain positive, creative, and committed we can find a solution.
Thank you for your patience and support.
Seth Miller, Ph.D.
Superintendent
Westville School District #2