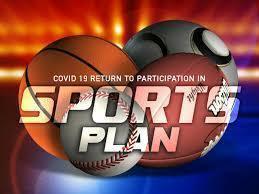 New Guidance for Sports Participation
Dr. Seth Miller
Friday, July 10, 2020
Westville School District Return to Play Phase IV
The IHSA has issued guidance that allows schools to return to sport specific training activities. Westville School District will begin implementing this plan on Monday July 13 for students who would like to participate in a safe and orderly manner. Athletes interested in participating on various sports teams during the 2020-2021 school year will have the opportunity to improve their skills over the next several weeks. Westville School District is committed to developing athletes while maintaining the health and safety of all coaches and athletes during the COVID-19 pandemic. Westville School District will be following all directed safety measures from the Illinois State Board of Education (ISBE), Illinois Public Health Department (IPHD), and Illinois High School Association (IHSA). Attendance during summer months is not required. Athletes that are interested in participating in these events will adhere to the following policies:
Students are limited to 5 hours of participation per day at a maximum capacity of 50 people (including coaches and players) for indoor activities.
All participants (coaches and players) must wear a mask at all times while indoors.
Athletes will be screened at the start of practice for temperature >100.4F/38C or symptoms of COVID-19 (fevers, chills, cough, muscle aches, headache, sore throat, runny nose, nausea, vomiting, diarrhea, or loss of taste or smell). Any person with symptoms or a positive COVID-19 test will not participate and will be sent home.
There will not be any contact drills and/or physical contact among athletes for any sports.
Appropriate clothing/shoes will be worn at all times in the weight room to minimize sweat from transmitting onto equipment/surfaces.
There will be no shared athletic towels, clothing, or shoes between students.
Athletic equipment such as bats and batting helmets will be cleaned between each use. Other equipment, such as catcher's gear, wrestling ear guards, and football helmets/other pads should be worn by only one individual and not shared.
Shared equipment such as athletic balls, thud pads, sleds are permitted, but will be cleaned frequently during practice and competitions.
Spotters for weightlifting are allowed while masked. Spotters should stand at each end of the bar.
All students shall bring their own water bottle. Water bottles must not be shared. Hydration stations (water cows, water trough, water fountains, etc.) may be utilized to fill individual water bottles.
Group sizes will be limited to 50 total participants.
Students will maintain social distancing on the sidelines when not engaged in activities.
No spitting or blowing of the nose without the use of a tissue is allowed.
All athletes will show up on time with an attitude that is eager to learn and develop.
COVID-19 Situation is Fluid and Guidelines May Change
These Policies May Be Amended in the Future
Please see below for the scheduled events for each sport. Athletes should expect to develop and improve their individual skills in specific sports, strength, speed, and overall athleticism through a combination of sport specific drills, movement mechanics, and weight lifting. If students or guardians have questions about individual activities they should contact the coach associated with that sport.
FOOTBALL
Point of Contact: Coach Guy Goodlove 217-202-9125
| | | | | |
| --- | --- | --- | --- | --- |
| Date | Grade Level | Time | Location | Equipment Needed |
| July 14 | 9-12 | 10-11am | Westville High School | Cleats and Water Bottle |
| July 16 | 9-12 | 10-11am | Westville High School | Cleats and Water Bottle |
| July 21 | 9-12 | 10-11am | Westville High School | Cleats and Water Bottle |
| July 23 | 9-12 | 10-11am | Westville High School | Cleats and Water Bottle |
| July 27 | 9-12 | 3-6pm | Westville High School | Cleats and Water Bottle |
| July 28 | 9-12 | 3-6pm | Westville High School | Cleats and Water Bottle |
| July 29 | 9-12 | 3-6pm | Westville High School | Cleats and Water Bottle |
| July 30 | 9-12 | 3-6pm | Westville High School | Cleats and Water Bottle |
| July 31 | 9-12 | 3-6pm | Westville High School | Cleats and Water Bottle |
| Aug 10 | 9-12 | 3-6pm | Westville High School | All Equipment (FIRST DAY OF PRACTICE) |
HIGH SCHOOL VOLLEYBALL
Point of Contact: Coach Drew Arteaga 217-417-3465
| | | | | |
| --- | --- | --- | --- | --- |
| Date | Grade Level | Time | Location | Equipment Needed |
| July 14 | 9-12 | 10-1130am | Giacoma | Mask, Knee Pads, Shoes, and Water Bottle |
| July 21 | 9-12 | 10-1130am | Giacoma | Mask, Knee Pads, Shoes, and Water Bottle |
| July 28 | 9-12 | 10-1130am | Giacoma | Mask, Knee Pads, Shoes, and Water Bottle |
| July 30 | 9-12 | 10-1130am | Giacoma | Mask, Knee Pads, Shoes, and Water Bottle |
| Aug 10 | 9-12 | 10-1130am | Giacoma | Mask, Knee Pads, Shoes, and Water Bottle (FIRST DAY OF PRACTICE) |
JUNIOR HIGH SCHOOL VOLLEYBALL
Point of Contact: Coach Caleb Stevenson 217-504-2132
| | | | | |
| --- | --- | --- | --- | --- |
| Date | Grade Level | Time | Location | Equipment Needed |
| July 14 | 7-8 | 1130-1pm | Giacoma | Mask, Knee Pads, Shoes, and Water Bottle |
| July 21 | 7-8 | 1130-1pm | Giacoma | Mask, Knee Pads, Shoes, and Water Bottle |
| July 28 | 7-8 | 1130-1pm | Giacoma | Mask, Knee Pads, Shoes, and Water Bottle |
| July 30 | 7-8 | 1130-1pm | Giacoma | Mask, Knee Pads, Shoes, and Water Bottle |
HIGH SCHOOL BOYS BASKETBALL
Point of Contact: Coach Drew Arteaga 217-417-3465
| | | | | |
| --- | --- | --- | --- | --- |
| Date | Grade Level | Time | Location | Equipment Needed |
| July 13 | 9-12 | 10-1145am | Giacoma | Mask, Shoes, and Water Bottle |
| July 15 | 9-12 | 10-1145am | Giacoma | Mask, Shoes, and Water Bottle |
| July 17 | 9-12 | 10-1145am | Giacoma | Mask, Shoes, and Water Bottle |
| July 20 | 9-12 | 10-1145am | Giacoma | Mask, Shoes, and Water Bottle |
| July 22 | 9-12 | 10-1145am | Giacoma | Mask, Shoes, and Water Bottle |
| July 24 | 9-12 | 10-1145am | Giacoma | Mask, Shoes, and Water Bottle |
| July 27 | 9-12 | 10-1145am | Giacoma | Mask, Shoes, and Water Bottle |
| July 29 | 9-12 | 10-1145am | Giacoma | Mask, Shoes, and Water Bottle |
| July 31 | 9-12 | 10-1145am | Giacoma | Mask, Shoes, and Water Bottle |
JUNIOR HIGH SCHOOL BOYS BASKETBALL
Point of Contact: Coach Drew Arteaga 217-417-3465
| | | | | |
| --- | --- | --- | --- | --- |
| Date | Grade Level | Time | Location | Equipment Needed |
| July 13 | 7-8 | 12-130pm | Giacoma | Mask, Shoes, and Water Bottle |
| July 15 | 7-8 | 12-130pm | Giacoma | Mask, Shoes, and Water Bottle |
| July 20 | 7-8 | 12-130pm | Giacoma | Mask, Shoes, and Water Bottle |
| July 27 | 7-8 | 12-130pm | Giacoma | Mask, Shoes, and Water Bottle |
| July 29 | 7-8 | 12-130pm | Giacoma | Mask, Shoes, and Water Bottle |
SOFTBALL (JUNIOR HIGH AND HIGH SCHOOL)
Point of Contact: Coach Randy Skaggs 217-474-7310
| | | | | |
| --- | --- | --- | --- | --- |
| Date | Grade Level | Time | Location | Equipment Needed |
| July 13 | 7-12 | 7-8am | Westville High School | All Softball Equipment (cleats, glove, helmet, tennis shoes, softball pants, bat, water bottle etc.) |
| July 15 | 7-12 | 7-8am | Westville High School | All Softball Equipment |
| July 16 | 7-12 | 7-8am | Westville High School | All Softball Equipment |
| July 20 | 7-12 | 7-8am | Westville High School | All Softball Equipment |
| July 22 | 7-12 | 7-8am | Westville High School | All Softball Equipment |
| July 24 | 7-12 | 7-8am | Westville High School | All Softball Equipment |
| July 27 | 7-8 | 2:40–4:45pm | Westville High School | All Softball Equipment (First Day of Practice) |
HIGH SCHOOL GIRLS BASKETBALL
Point of Contact: Coach Nathan West 217-377-1724
| | | | | |
| --- | --- | --- | --- | --- |
| Date | Grade Level | Time | Location | Equipment Needed |
| July 13 | 9-12 | 530-7pm | Giacoma | Mask, Shoes, and Water Bottle |
| July 15 | 9-12 | 530-7pm | Giacoma | Mask, Shoes, and Water Bottle |
| July 20 | 9-12 | 530-7pm | Giacoma | Mask, Shoes, and Water Bottle |
| July 22 | 9-12 | 530-7pm | Giacoma | Mask, Shoes, and Water Bottle |
| Aug 3 | 9-12 | 530-7pm | Giacoma | Mask, Shoes, and Water Bottle |
| Aug 5 | 9-12 | 530-7pm | Giacoma | Mask, Shoes, and Water Bottle |
WRESTLING
Point of Contact: Coach Kirk Edwards 217-597-7816
| | | | | |
| --- | --- | --- | --- | --- |
| Date | Grade Level | Time | Location | Equipment Needed |
| July 14 | 5-12 | 6-7pm | Westville High School | Mask, Head Gear, Shoes, and Water Bottle |
| July 16 | 5-12 | 6-7pm | Westville High School | Mask, Head Gear, Shoes, and Water Bottle |
| July 21 | 5-12 | 6-7pm | Westville High School | Mask, Head Gear, Shoes, and Water Bottle |
| July 23 | 5-12 | 6-7pm | Westville High School | Mask, Head Gear, Shoes, and Water Bottle |
CHEERLEADING
Point of Contact: Coach Katilyn Gill 309-533-0665
| | | | | |
| --- | --- | --- | --- | --- |
| Date | Grade Level | Time | Location | Equipment Needed |
| July 23 | 9-12 | 1-2pm | Giacoma | Mask and Water Bottle (TRYOUTS) |
| July 24 | 9-12 | 1-2pm | Giacoma | Mask and Water Bottle (TRYOUTS) |
| July 25 | 9-12 | 10-1130pm | Giacoma | Mask and Water Bottle (TRYOUTS) |
| July 27 | 9-12 | 10-1130pm | To Be Announced | Mask and Water Bottle |
| July 29 | 9-12 | 10-1130pm | To Be Announced | Mask and Water Bottle |
| July 31 | 9-12 | 10-1130pm | To Be Announced | Mask and Water Bottle |
| Aug 3 | 9-12 | 10-1130pm | To Be Announced | Mask and Water Bottle |
| Aug 5 | 9-12 | 10-1130pm | To Be Announced | Mask and Water Bottle |
| Aug 7 | 9-12 | 10-1130pm | To Be Announced | Mask and Water Bottle |
DANCE
Point of Contact: Coach Nina Sparling 217-418-0714
| | | | | |
| --- | --- | --- | --- | --- |
| Date | Grade Level | Time | Location | Equipment Needed |
| Aug 3 | 9-12 | 1-6pm | To Be Announced | Mask and Water Bottle (TRYOUTS) |
| Aug 4 | 9-12 | 1-6pm | To Be Announced | Mask and Water Bottle (TRYOUTS) |
| Aug 5 | 9-12 | 1-6pm | To Be Announced | Mask and Water Bottle (TRYOUTS) |
| Aug 6 | 9-12 | 1-6pm | To Be Announced | Mask and Water Bottle (TRYOUTS) |
LIFTING (BOYS & GIRLS)
Point of Contact: Coach Drew Arteaga 217-417-3465
| | | | | |
| --- | --- | --- | --- | --- |
| Date | Grade Level | Time | Location | Equipment Needed |
| July 13 | 9-12 | 8-930am or 4-530pm | Westville High School | Mask and Water Bottle |
| July 14 | 9-12 | 8-930am or 4-530pm | Westville High School | Mask and Water Bottle |
| July 15 | 9-12 | 8-930am or 4-530pm | Westville High School | Mask and Water Bottle |
| July 16 | 9-12 | 8-930am or 4-530pm | Westville High School | Mask and Water Bottle |
| July 17 | 9-12 | 8-930am or 4-530pm | Westville High School | Mask and Water Bottle |
| July 20 | 9-12 | 8-930am or 4-530pm | Westville High School | Mask and Water Bottle |
| July 21 | 9-12 | 8-930am or 4-530pm | Westville High School | Mask and Water Bottle |
| July 22 | 9-12 | 8-930am or 4-530pm | Westville High School | Mask and Water Bottle |
| July 23 | 9-12 | 8-930am or 4-530pm | Westville High School | Mask and Water Bottle |
| July 24 | 9-12 | 8-930am or 4-530pm | Westville High School | Mask and Water Bottle |
| July 27 | 9-12 | 8-930am or 4-530pm | Westville High School | Mask and Water Bottle |
| July 28 | 9-12 | 8-930am or 4-530pm | Westville High School | Mask and Water Bottle |
| July 29 | 9-12 | 8-930am or 4-530pm | Westville High School | Mask and Water Bottle |
| July 30 | 9-12 | 8-930am or 4-530pm | Westville High School | Mask and Water Bottle |
| July 31 | 9-12 | 8-930am or 4-530pm | Westville High School | Mask and Water Bottle |
| Aug 3 | 9-12 | 8-930am or 4-530pm | Westville High School | Mask and Water Bottle |
| Aug 4 | 9-12 | 8-930am or 4-530pm | Westville High School | Mask and Water Bottle |
| Aug 5 | 9-12 | 8-930am or 4-530pm | Westville High School | Mask and Water Bottle |
| Aug 6 | 9-12 | 8-930am or 4-530pm | Westville High School | Mask and Water Bottle |
| Aug 7 | 9-12 | 8-930am or 4-530pm | Westville High School | Mask and Water Bottle (1000lbs. Club) |