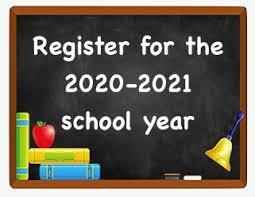 Registration Begins Earlier on July 27
Dr. Seth Miller
Wednesday, July 22, 2020
Welcome to the 2020-21 school year Westville Students and Families
Westville School District is pleased to release the following information for student registration information.
Registration Location
Registration for all students will take place at Judith Giacoma (200 S. Walnut Street in Westville). High school, junior high school, VASE students, and elementary students will all register at this location.
Registration Dates and Times
Westville School District will begin student registration on July 27 through Monday August 3 at specific times according to students last names. Parents should fill out registration forms electronically in advance, print off, and sign to avoid registration wait times. Forms will be available at registration if needed.
July 27 9-11AM and 5-7PM (Students and siblings last name A-D)
July 28 9-11AM and 5-7PM (Students and siblings last name E-L)
July 29 9-11AM and 5-7PM (Students and siblings last name M-R)
July 30 9-11AM and 5-7PM (Students and siblings last name S-Z)
August 3 9-11AM and 5-7PM (New Students, Kindergarten, Preschool, Early Childhood)*
*siblings of kindergarten, preschool, and early childhood should register on August 3
Registration Safety Procedures
Please be aware of the following safety protocols that will be in place to ensure a safe and sanitized registration procedure for families and district staff.
Please bring printed off forms in advance to minimize the need to wait in line.
Lines will be socially distanced outdoors to ensure safe capacity limits during registration.
Please do not bring children to wait in-line unless it is a high school student with a scheduling question.
All individuals will be required to wear a mask when entering the building.
All individuals will be screened for their temperature and COVID-19 symptoms before entering the building
Choosing a Learning Style for the Fall Semester
Parents will need to consider their preference for instructional delivery this fall. Each student will have an option for in-person learning or remote learning for the first semester. Parents will need to come ready to choose an option at registration so the district can make sure we have the devices, technology, and support we need to meet the needs of all students this fall. More information can be found about our plans to open school at the following links:
Westville School District Plan to Open Schools Fall 2020
Frequently Asked Questions on Westville School District Plan for Fall 2020
Attached Registration Forms and Instructions
Student Enrollment Form Each student registered must fill out this form
Fee Waiver Form Each family (including multiple students) may fill this out if applicable
DACC Transportation Form Any high school student accessing DACC campus during the day
Consent to Drug Screening Form High School students if enrolled in athletics, drivers, DACC -if applicable
Registration Fees
$35 Elementary Registration Fee
$40 Junior High and High School Registration Fee
$20 High School Activity Fee for all High School Students
$100 High School Drivers Education Fee (only if applicable to course enrollment)
$40 DACC Access Fee (applicable only for DACC courses- College Express, Dual Enrollment, Middle College)
Student Fee Waiver Applications
Families in need of financial Assistance may wish to apply for school fee waivers by completing the attached student fee waiver form in order to determine eligibility.
School Lunch Program
Westville School District currently offers free school meals (breakfast and lunch) to ALL students for the upcoming school year. There is no application process necessary for any student to participate in this program. However, families in need of financial assistance should apply for a school fee waiver. A system will be put in place to ensure that students who elect to take remote-learning will still have access to receive weekly breakfast and lunch throughout the school year. More information will be provided for remote learners on how to access district meals as we get closer to the start of school.
School Supply Lists
Parents should not purchase school supplies for their students to use at school.
The district will be supplying students with all the necessary school supplies and resources they need for in-person learning. To reduce the potential for transmission, students will not need to purchase or bring in supplies from home. Teachers will identify what is needed for their classes and the district will make sure the students have the resources that are needed at school.
New Students to the School District
New students to the district will register on a separate date Monday August 3 from 9-11AM and 5-7pm. New students will not be able to register during the other registration times to limit time needed to register these students.
New students to Westville School district need to establish residency. To do this a custodial guardian should fill out the Residency Form.
Kindergarten – Preschool – Early Childhood Special Education
Kindergarten, preschool, and early childhood special education students will register on a separate date Monday August 3 from 9-11AM and 5-7pm. If these students have siblings, they should register at this time as well.
Upcoming Dates
First Day of Student Attendance (Remote and In-Person) August 24
Other Resources
Westville School District Calendar 2020-21 School Year
Judith Giacoma Elementary School Handbook
Westville Junior High School Handbook
Westville High School Handbook
Our teachers and staff are very excited to see the students return so we can welcome them into another great year. We sincerely appreciate your help in making registration an efficient and informative experience.
Have a great school year!
Seth Miller, Ph.D.
Superintendent
Westville School District #2