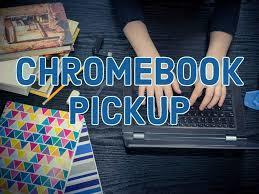 Chromebook Pickup for WHS and WJHS
Dr. Seth Miller
Tuesday, August 18, 2020
Chromebook Pick-Up for WHS and WJHS
Westville School District is ready to distribute Chromebooks for ALL students (remote learners and in-person learners) attending Westville High School and Westville Junior High School. Here is important information about how, when, and where to receive these materials.
Parents and Students Must Sign Sign-off on the Chromebook Agreement Form in Advance
The district has a Chromebook and iPad policy that should be read in advance. This policy explains important issues like basic maintenance, guidance on repairs, and expectations. Parents and Students must sign-off on the terms of this policy before picking up their device. The policy can be accessed at the following link: Westville School District Chromebook and iPad Policy. Copies of the sign-off will be available at pick-up.
Time and Location for Student Pick-up
All WHS and WJHS students (remote and in-person learners) should pick up their Chromebook device.
Pick-up Location – Westville High School for all students (WJHS, WHS, remote learners, and in-person)
Pick-up Procedure – Parents and students may drive up through the high school and sign-off on the Chromebook Agreement Form and pick-up their device without having to exit the vehicle.
Pick-up Hours – Thursday August 20, 2020 from 1-3PM in the afternoon and 5-6pm in the evening.
*Parent and student signatures on the Chromebook agreement form are needed before distribution
Safety Measures
The district uses a monitoring-service called "Bark for Schools" to alert the school to potential issues such as cyber bullying, threats of violence, and other forms of inappropriate technology use. Parents may have received an email inviting them to participate in this monitoring service already. To learn more about safety measures and monitoring services click here.
What do I do if I cannot make it to the Pick-up for WHS and WJHS?
It is highly encouraged that everyone who is able to pick up their Chromebook at the times listed above. For students and families that have unavoidable conflicts they should contact their school after Thursday August 20 to make arrangements to sign-off on their agreements and pick up their device.
When do Giacoma Students Receive Their Device?
There have been several students who have registered later than expected at Giacoma. The district is working to acquire the additional devices needed to serve all our remote and in-person learners at and will provide information on pick-up as soon as possible.
When will students and parents receive training on how to access their online curriculum?
Teachers have been working hard to build and upload online curriculum for their classes. When teachers finish their course curriculum there will be short informational videos and how-to guides created to help parents navigate their students school work, monitor student grades, receive tech support, and explain how to communicate with classroom teachers. Stay tuned for more updates to come.