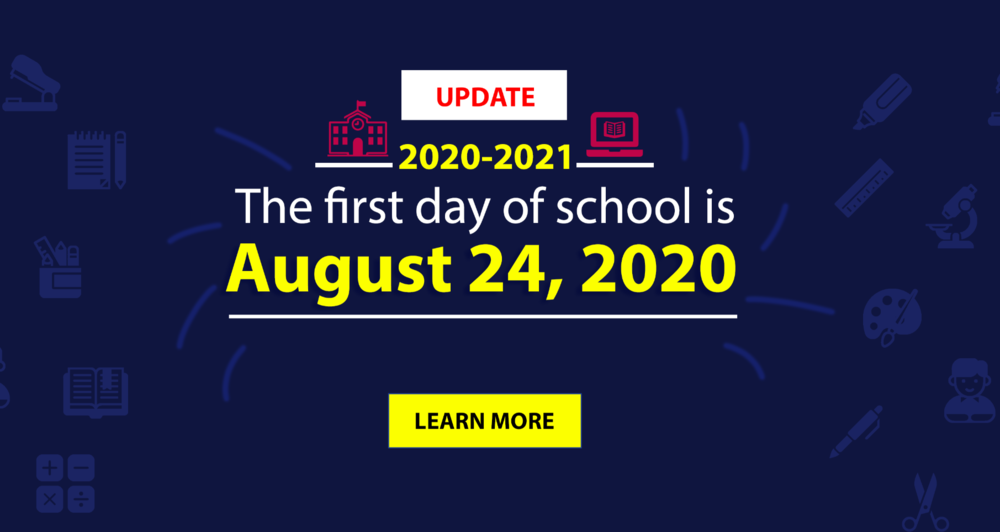 Update on First Day for Westville Schools
Dr. Seth Miller
Friday, August 21, 2020
August 21, 2020
Dear Westville Parents, Students, and Community,
The teachers have been working so hard doing their best to provide a great experience for our students next week. In just five short days they have received training on building online curriculum, set-up their classroom to provide for safe and socially distanced learning, passed out Chromebooks for WHS and WJHS students, and on top of all this, teachers have completed all the "normal" opening year activities like doing bulletin boards, classroom art, and setting up materials. They have worked with extreme diligence because they are so excited to see our students return. We miss them!
Even with all this preparation, we all understand there will inevitably be bumps and glitches along the way. Please understand that we will work to resolve every issue, meet each need, and answer every question just as quickly as we can. Our parents have been so patient and gracious with us along this journey and it is sincerely appreciated. We will find a way – and together, we can do this. Here are some important updates as you are making your final preparations before next week.
Remote Learning for Giacoma Students
Students who have selected remote learning at Giacoma do not need worry about accessing online learning content for the first week of school. Although, the Chromebooks for Giacoma students were ordered back in early July the district is still waiting for final delivery (the devices shipped on August 11 and we expect them soon). We will communicate a day and location for Chromebook distribution as soon as they arrive and are inventoried.
In the meantime, much of the first week for in-person learners will be spent learning the procedures and routines for the new school year. We anticipate that for the first few days there will be much for in-person learners to understand about how school will operate. The students learning in-person will not be moving into their digital curriculum any sooner than our remote learners.
When our devices arrive for ALL our Giacoma students (remote and in-person), we will provide instructions and launch our academic curriculum for everyone at the same time so that no one is left behind.
Remote Learning for WHS and WJHS Students
Students who have selected remote learning at WHS and WJHS will have instructions about how to access their online courses sent to them this weekend. Students will login by using their school issued email and a unique password for each student's online courses. The passwords will be sent to each student through email. In-person students will receive their passwords when they arrive at school from their teachers. The online curriculum is designed so that students will be able to work at their own pace and during times that work for each family. There will be opportunities to contact teachers and participate in interactive activities like zoom chats and Google meets with their teachers. These interactive activities are strongly encouraged, but will not count against a student if they are unable to participate.
Student passwords and instructions will be emailed to remote learners by Sunday August 23 at 5pm and the courses should be viewable by Monday August 24.
To learn more about the online curriculum that will be used for WJHS and WHS click here:
Edgenuity Preview for WHS and WJHS Online Curriculum
Orientation for Freshmen and Seventh Grade Students
The teachers and administrators have been working on ideas to make sure that the students who are new to our buildings at WHS and WJHS feel comfortable and prepared on their first day. On Monday August 24 special programs have been developed that will help explain room locations, class schedules, school rules, and frequently asked questions. Parents should drop off their Freshmen and Seventh Grade students at the appropriate time and faculty and staff will greet them and guide them through this process. Because students will be using book bags instead of lockers this year, there should be much less student stress about figuring out locker combinations. Our teachers and principals care very much about our students' success and will work hard to help them have a great first day experience.
Understanding When to Arrive at School
Each building has slightly different arrival schedules. Schools will have an "Opening Time" which will be the earliest that students can be dropped off at school. Unlike years past, we do not have the capacity for students to sit in large groups in a cafeteria and or gymnasium. Please do not send your students to school before the building is open.
When the building is open teachers will begin receiving students directly into their classroom. All students will have access to a school breakfast if they arrive before class begins. The time period between when school opens and when class begins will used for being welcomed to school by the teacher, morning procedures, and breakfast.
Please remember that on the first day of school for Giacoma on August 24 only students in first grade and above will attend. Kindergarten students and below will attend starting Tuesday August 25.
Students do not have to arrive when the building opens, but do need to be seated in their classroom ready to learn before class begins.
Morning Schedules
Building Opens Class Begins
Giacoma 8:00 9:00
WJHS 7:45 8:30
WHS 7:30 8:00
For a quick preview of what to expect for in-person learners click on this informational video:
What to Expect for In-Person Learners
For more information about the Return to Learn Plan for Westville School District click here:
Westville School District Return to Learn Plan
One Page Preview of In-Person and Remote Learners
Even for the faculty, staff, and administrators who have decades of experience; Monday August 24 will launch the start of a new school year that is unlike one we have ever seen. The day is likely to feel like our "first day" all over again. Even amidst the uncertainty that may still exist, we are confident we can find solutions that will work for our students and community. Thank you for your support of Westville schools.
We Will Find a Way
Together, we can do this!
Seth Miller, Ph.D.
Superintendent
Westville School District #2