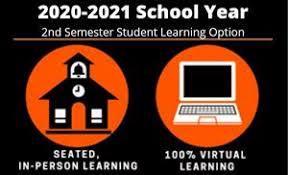 Planning for Third Quarter at Semester Break
Dr. Seth Miller
Tuesday, December 01, 2020
December 1, 2020
Dear Westville School Community,
Westville School District is prepared to announce its plan for continued programming as we move forward into second semester. This plan has been developed based on the best safety guidance and procedures provided by the Illinois State Board of Education, the Illinois Department of Public Health, the Vermilion County Health Department, and most importantly, input from the teachers and staff who will carry out this plan for our students.
The majority of the school programming will not change as we head into second semester.
If you would like to review that plan it can be found at the following link:
2020-21 School Year Return to Learn Plan for Westville School District
The parts of the plan that will change for third quarter are as follows:
All students will have an opportunity to return to in-person at the start of the semester.
During registration the district advertised that students who opted for remote learning would have an option to return to in-person learning at the semester break. Any remote student who would like to enroll as an in-person learner will have that chance. Current in-person learners DO NOT need to re-enroll as in-person (schools will keep those students registered as in-person learners). Current remote learners who wish to enroll for in-person learning may do so by calling your school administrator to inform them of the desire to make a change. Current remote learners who wish to remain in remote learning DO NOT need to make any changes (schools will keep those students registered as remote learners). The district will continue to allow any in-person learner to opt into remote learning at any point during third quarter if there is a health/safety concern. Students registered for remote learning will remain in remote learning until the end of the third quarter (students will not be allowed to switch back and forth within the quarter).
Students in remote learning who wish to return to in-person must contact their school by Friday December 11 to inform the school.
Giacoma: 267-2154
WJHS: 267-2185
WHS: 267-2183
There is potential a remote student electing to opt into in-person learning may need to switch teachers.
At Giacoma, depending on the number of students electing to return at the semester, there is a chance we may need to re-distribute students in some classes to provide for safe social distancing and balance between teacher-to-student class sizes. We will have a better understanding about whether there will be the need to do this after students have informed the district of their desire to return to in-person learning by December 11. The district's goal will be to keep students who have been in-person all along with their same classroom teacher and avoid switching any student's teacher if possible. Additionally, at WJHS student groups in the seventh and eighth grade may be adjusted slightly to provide for optimal social distancing and classroom safety.
There is a timeline for selecting in-person or remote learning during the third quarter.
Parents will have until December 11 to opt into in-person learning for the third quarter. Once the third quarter begins students who are remote will continue to receive remote learning throughout the third quarter. At the end of the quarter students will have another opportunity to select in-person learning for the fourth quarter. The hope is that by fourth quarter more opportunities may exist if a vaccine and/or other conditions change that would allow for expanded student opportunities. Any changes for fourth quarter will be communicated as we progress through the second semester and more information is understood.
A note about in-person learning:
With the first semester nearly finished; students, teachers, and parents seem to have a better understanding of how the district has utilized digital curriculum to support teaching and learning this school year. The district feels strongly that there is no substitute for a quality, highly-skilled teacher working with students in-person. Under normal circumstances there is much agreement this is the preferred method for all students, however we all realize that the pandemic has forced our school community to adjust. Many students and parents worked through the growing pains as our district worked to implement a digital curriculum this year. Having almost 18 weeks of experience using the digital curriculum and learning how to compliment the in-person experience with the digital curriculum has our teachers in a great position to support in-person students. The in-person learning experience in November/December looks much different than it did in August/September. Each teacher has found unique ways to adapt, and some of the practices our teachers are now utilizing include:
Teaching lessons in-person and then bypassing videos in the digital curriculum for in-person students
More direct one-on-one instruction between teachers and students who need individual support
Easier communication for students who need to re-take a digital assignment, and/or come up with an alternative assessment if needed
Supplemental classroom activities for in-person learners (hands-on activities for the arts, vocational courses, and other subjects)
Opportunities for more socialization and communication with other students
A much better overall feel for the scope, sequence, and pace of the work that is being assigned
The district understands that in-person learning is not the right choice for every student amidst a global pandemic. This update on in-person learning is to help provide a better picture of what in-person learning looks like now compared to where we were at the start of the school year. Our teachers have been stretched to adapt, but they have come up with creative and engaging solutions in efforts to support our students. We will continue to work hard to support all students regardless of their learning option (remote or in-person).
Giacoma will change the school start time to 8:45AM, slightly earlier than first semester.
After hearing feedback from teachers and having a better feel for the arrival time traffic flow, Giacoma is going to start the academic learning day 15 minutes earlier (8:45AM). Parents will still be able to drop off students beginning at 8AM. Students who arrive between 8-8:45 will be provided breakfast to eat in their classroom and participate in daily welcoming activities. Students will need to be in their classroom and ready for learning by 8:45.
Food distribution for remote learners will be on Tuesdays from 1:30-2:30pm.
Students who are enrolled in remote learning will continue to have access to the breakfast and meals provided to in-person learners. An electronic message will continue to be sent out on the weekends (typically Sunday at 6pm) for parents to sign-up. Pick up will continue to be at WHS, and will run from 1:30-2:30pm. All remote learners are eligible to sign-up for this program and it is NOT associated with financial need.
The first day of student attendance for second semester will be Wednesday January 6.
The district has adjusted the school calendar slightly for second semester and will now start student attendance on January 6. Faculty and staff will still report on January 4 and 5 for planning and organization for second semester. This will allow classrooms to be set up for optimal social distancing, a slightly delayed return for students after Christmas break who may be in a quarantine situation, and a stronger start to our third quarter for both in-person and remote learners. Students who attend at VASE/Middlefork and/or Safe Schools will start student attendance with bus service provided starting Monday January 4.
Final Thoughts
Westville School District is committed to supporting our students, teachers, and community as we continue to press ahead through the obstacles COVID-19 has presented. We have a resilient, dedicated, and extremely hard-working team of teachers and staff members committed to safely and steadfastly rising to this challenge. I would encourage all to remain positive, commit ourselves to hard work, and ultimately "Find a Way." Together we can do this!
Thank you for your support of Westville Schools.
Seth Miller, Ph.D.
Superintendent
Westville School District #2