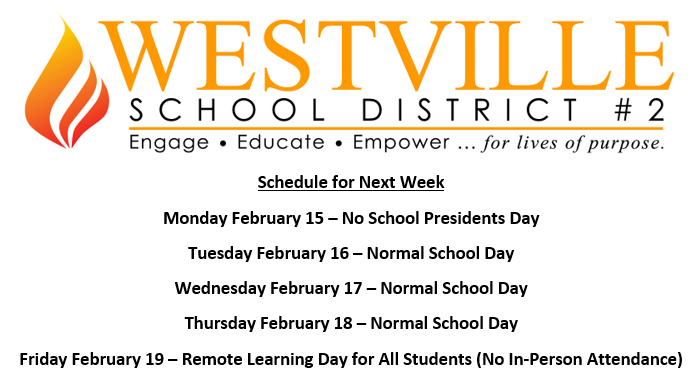 Schedule Update for February 15-19
Dr. Seth Miller
Friday, February 12, 2021
Westville Parents and School Community,
Please be aware of an update to the schedule for next week. Monday February 15 is an observed holiday for President's Day and there will also be a scheduled remote learning day for all students next Friday February 19.
THERE WILL BE NO IN-PERSON STUDENT ATTENDANCE NEXT MONDAY OR FRIDAY NEXT WEEK.
The district is scheduling a Remote Learning Day for all students on next Friday February 19 to provide school personnel access to the second dose of COVID vaccine. Teachers will provide students assignments and activities through the digital curriculum platforms (Edgenuity, See Saw, email, and/or other methods), but there will be no in-person student attendance that day.
The faculty, staff, and students have been doing an excellent job of following COVID protocols. We are very thankful that we have been able to avoid any temporary suspensions of in-person learning for the second semester thus far. Providing an opportunity for staff to receive their second dose of COVID vaccine will help strengthen our district's ability to avoid future disruption to student programming.
Students who attend VASE programs at Middlefork and Safe School will also have no in-person student attendance on Monday or Friday of next week.
High School Students who attend College Express and/or Dual Enrollment programs will have student attendance (provided those DACC programs are allowing in-person student attendance at that time).
Thank you for your understanding and cooperation in advance.
Please stay safe and warm over the next week.