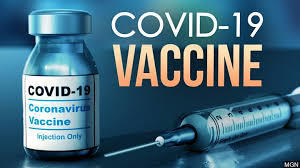 St. Mary's Church to host COVID Vaccine Clinic
Dr. Seth Miller
Monday, March 22, 2021
The Vermilion County Health Department is partnering with St. Mary's Catholic Church in Westville to provide opportunities for the general public over age 18 to receive a COVID-19 vaccine on Wednesday March 24 between 8-3pm. Please schedule an appointment in advance to participate.
If you would like to receive the vaccine or know someone else who would, please use the following link to sign up:
Click Here to Sign up for the St. Mary's Vaccine Clinic
The voucher code for the clinic = STMARYS2021
Westville School District would like to extend great appreciation to St. Mary's Church and the Vermilion County Health Department for providing this opportunity to our community residents.