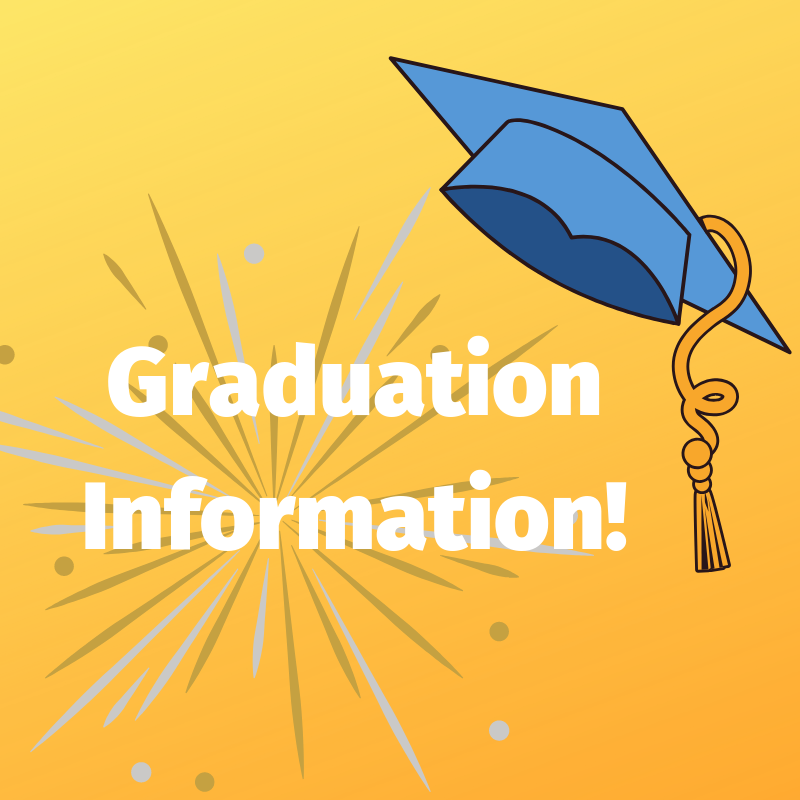 Graduation Information for WHS and WJHS
Dr. Seth Miller
Wednesday, April 07, 2021
Dear Westville School Community,
Westville School District is very happy to announce a plan for an in-person graduation ceremony. Obviously there will be certain changes to our traditional ceremonies in light of appropriate COVID considerations that must be accounted for, but the district has developed a plan that will allow for an in-person graduation ceremony with limited spectator capacity for both our eighth grade and high school graduates this May. These ceremonies will be conducted in a safe environment in accordance with health and safety protocols for all graduates who wish to participate in the ceremony. It is not necessary for a graduate to participate in the commencement ceremony in order to receive their diploma. This ceremony is available to those graduates who choose to participate. Please see the related graduation information below.
Graduation RSVP and Graduation Practice Time
All graduates eligible to participate in the commencement ceremony who intend to attend the in-person must RSVP in advance to participate. This reservation will be both for the graduate and up to six invited guests. Reservations will be due by Friday May 7th. Each school (Westville Junior High School and Westville High School) will send out RSVP information to eligible graduates in the near future. Graduates who plan to go through the ceremony are required to participate in a mandatory graduation ceremony practice that will take place on Friday May 14 at Westville High School. The high school graduation practice will be at 9AM and the junior high practice time will be at 11AM.
Graduation Date and Time
Graduation day for both schools is Sunday May 16. WJHS graduation will take place at 2PM and WHS graduation will take place at 4PM. Doors will open for assigned spectator seating 45 minutes prior to each ceremony.
Spectator Policy
In order to provide an in-person graduation ceremony for each school, certain health and safety protocols will be in place. Each graduate may allocate up to six tickets for spectators. These spectator reservations will NOT be transferrable (in other words a student who only utilizes 4 tickets will not be able to share tickets with other potential spectators). The reason for this policy is to that appropriate social distancing can be established and planned for in advance with seating for both ceremonies. Seating will be assigned to ensure appropriate social distancing. The school will have the event photographed with those photos available to families after the ceremony on the school's Facebook page. Immediately following the ceremony, the students will be dismissed first and then staggered dismissal will occur for spectators to avoid excessive foot traffic and congestion. All participants in the graduation ceremony will follow the following COVID related protocols:
COVID Protocols for the Graduation Ceremony
Only guests invited by a participating graduate will be allowed to attend.
Masks are mandatory for all spectators and must be worn while inside school buildings
Spectators should maintain six feet of social distancing to the extent possible while inside the building and utilize the assigned seats during the ceremony. Individuals from the same household will sit together as a group.
Spectators who are experiencing any of the following symptoms must not enter the school building: fever, cough, sore throat, headache, lost of taste/smell, difficulty breathing, chills, vomiting
Spectators will have their temperature taken upon arrival to the school building and individuals with a temperature above 100.4 degrees will not be permitted to enter the school building.
Graduates and spectators will follow the staggered dismissal procedure at the conclusion of the ceremony.
Conclusion
Westville School District is very pleased to be able to provide the opportunity for the students who have worked so hard and faced significant challenges to achieve this milestone in their lives. We appreciate the support and cooperation in helping make this event a success for the students involved.