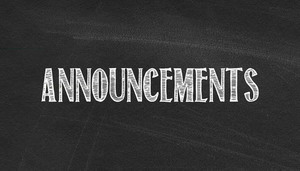 WHS Daily Announcements
Mrs. Nancy Carnaghi
Monday, October 07, 2019
NOVEMBER 13, 2019
Attention Students – The "Crazy Hat Day" to support Wreaths Across America has been moved to Friday. For a $1.00 donation to Wreaths Across America, you may wear a crazy hat on Friday, November 15th. This donation will support the National Honor Society's campaign to raise money to purchase wreaths to be placed on the graves of Veterans at the Danville National Cemetery for the holidays.
Attention Faculty and Students - Mr. Lehmann's Modern History classes are collecting notes or letters to be sent to Coach Arteaga. Those students who would like to have their note or letter included in the mailing, please get it to Mr. Lehmann by the end of the day on Friday, November 15th.
Attention Art Club Students – Your Fannie May money is due today to Mrs. Garcia. If you are having problems with your Fannie May order, please let get with Mrs. Garcia this week.
Attention Faculty and Students – The Festival of Trees is looking for volunteers from November 16 through the 20th. You would have a variety of areas from which to choose. If you are interested and want more info, please call the volunteer line @ 217-597-9860.
Attention Faculty and Students – Post Prom is selling raffle tickets for $5.00 each until November 15th for a $500.00 Shopping Spree; the drawing will happen on November 22nd, see Ms. Kash or Tracy for tickets. All tickets and money are due by November 15th.
Attention Seniors – 4 baby pictures and a senior picture are due by December 20th to Mrs. Jennings.