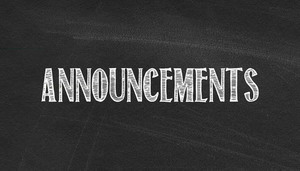 WHS Daily Announcements
Mrs. Nancy Carnaghi
Monday, October 07, 2019
JANUARY 16, 2020
Attention Band Students – Call time for Tuesday's Pep Band performance is 5:00 p.m.
Attention Students – For any girls interested in playing softball this spring there will be a brief meeting before school tomorrow morning at 7:20 in Coach Wisdom's classroom.
Attention Art Club Members – There will be an Art Club meeting right after school today in the Art Room.
Attention Seniors – If you are interested in selling candy bars for your senior trip – the sign-up sheet is on Mrs. Jennings door. Candy bars have to be ordered by tomorrow.
Attention Band and Chorus Students – A reminder that Solo and Ensemble forms are due tomorrow, January 17th.