News
Welcome to the 2019-20 school year Westville Students and Families Westville School District is pleased to release the following information for student registration information. Registration...
1st grade list Updated! Judith Giacoma School Supply List 2019-2020 Judith Giacoma School Supplies List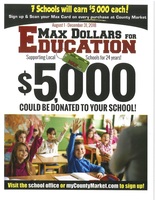 If you shop at County Market and have a Max Card, you could help Judith Giacomaget money every time you shop. You must register your card with the attached flyer. There will be additional flyers in...
SEE ALL NEWS