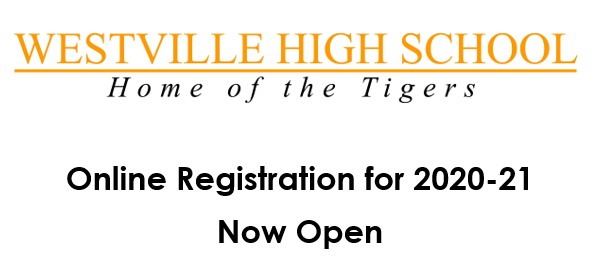 Registration is Now Open
Dr. Seth Miller
Thursday, May 28, 2020
Dear Westville High School Parents/Guardians,
Westville School High School would like to invite returning students and welcome the incoming class of freshmen to the 2020-21 high school registration process. Registration for the upcoming school year is now open. This year due to health concerns related to the coronavirus the registration process is going to take place online.
Each student (graduating eighth grade students through the current junior class) has been sent an email with the link to complete online registration.
Parents and students should work through the online registration together and make their course selections. The online process has been set up in a way that required classes are identified and elective classes provided as well. The process should go smoothly for students and the Westville High School guidance counselors will follow up with students if any issues arise.
Students are encouraged to register promptly due to limited availability in some courses.
In the event of a technical difficulty accessing the online registration email, please contact the district Technology Coordinator (Mrs. Lisa Coburn at coburnl@gowestville.org). For questions related to course registration please contact either WHS guidance counselor (Ms. Johnnie Hull at hullj@gowestville.org or Mr. Mike Waters at watersm@gowestville.org).
We look forward to a great school year in 2020-21 – Go Tigers!