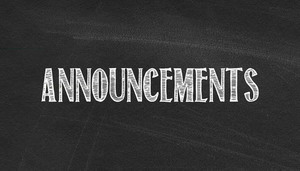 WHS Daily Announcements
Mrs. Nancy Carnaghi
Monday, October 07, 2019
May 18 , 2021
HIGH SCHOOL CHROMEBOOK RETURN
Remote and In-Person Students: If you do not have to take finals and you are finished with your assignments return your chromebook with original charger to Mrs. Coburn or Mr. Anderson anytime this week.
In person students: Please return chromebooks and original chargers after finals today, May 18th. We will be collecting them in the main foyer.
Remote Students: You may return your chromebooks and chargers on May 18th from 1-3 at the high school in the main foyer.
Hot spots and their chargers should be returned with your chromebooks.
Attention Juniors – If you took the SAT test you may now access your scores online. You must have your State ID Number to access your score. These numbers are posted outside Mr. Waters office. Mr. Waters or Ms. Hull cannot access the scores until June 28th.